First Round Second Round Quarter-Finals Semi Finals
Sandford Winning Team 2005.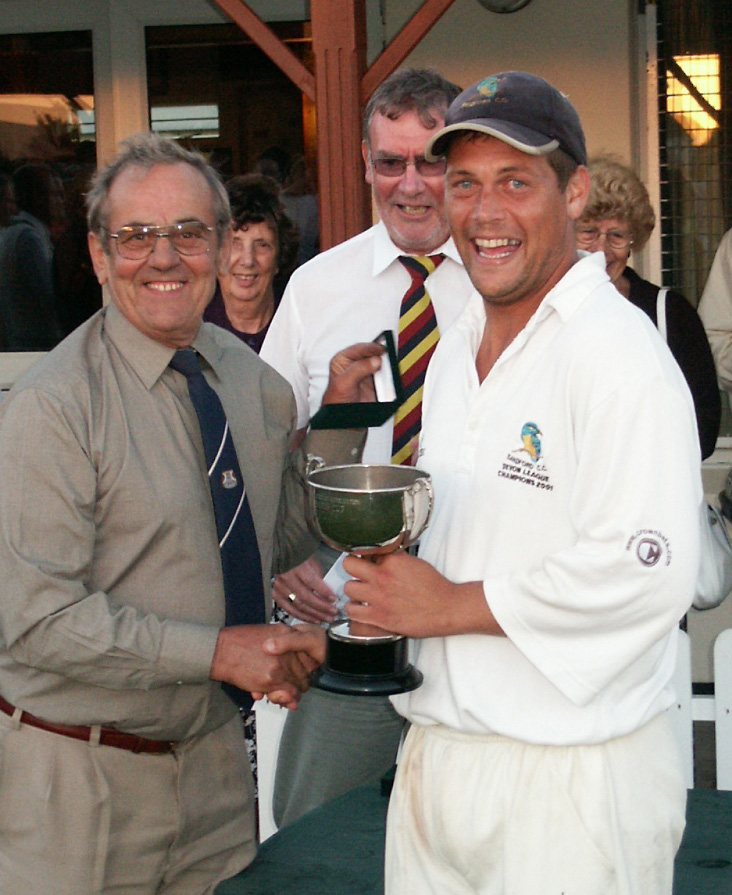 DCL President-Graham Shears. DCL Vice Chair-David Gambie. Sandford Captain-Richard Baggs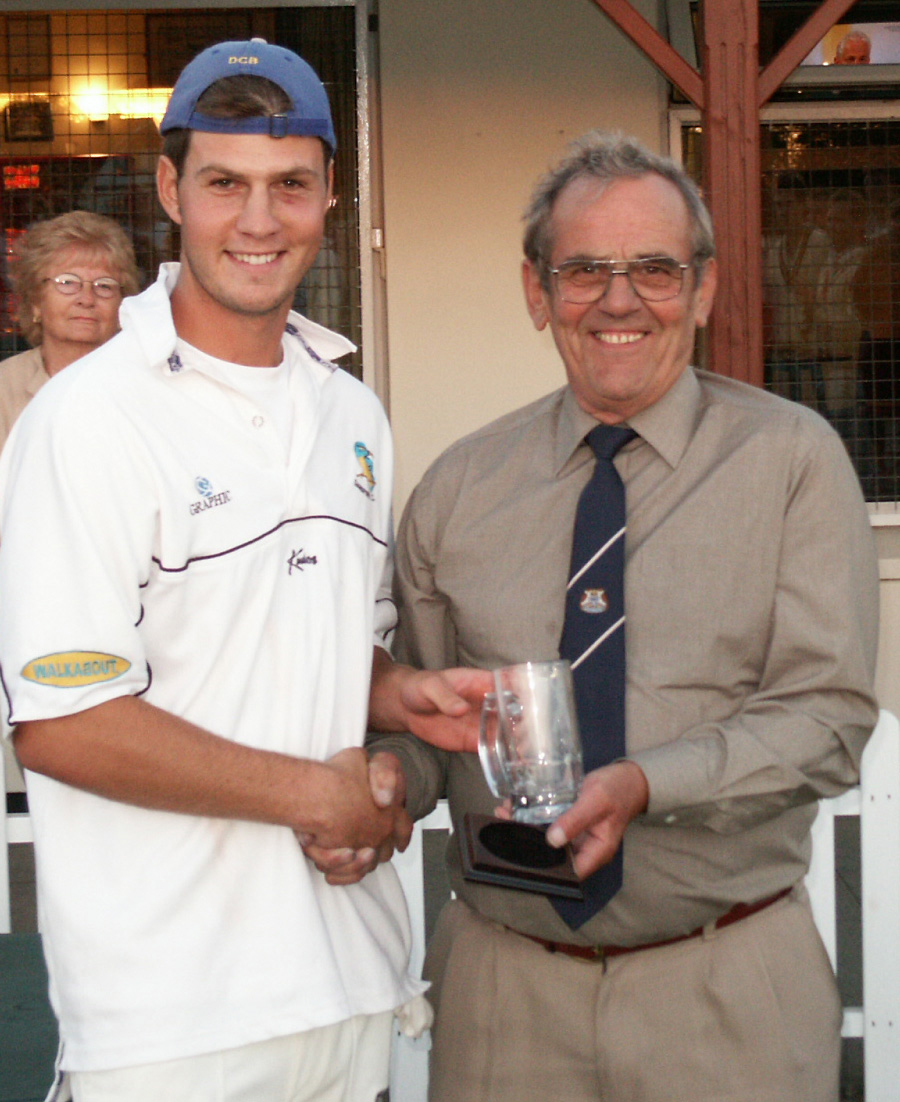 Man of the match-Neil Bettis. DCL President-Graham Shears
By CONRAD SUTCLIFFE
NEIL Bettis might have been Man of the Match for hitting 89 in Sandford's five-run victory over Exeter in yesterday's Devon Senior Cup final at Braunton, but jubilant skipper Richard Baggs nominated Neil Davey as his probable match winner.
Chasing 237 to win in 40 overs, Exeter looked down and out at 151for six with 10 overs to go and Derek Lammonby just out for a quickfire 40.
Lammonby and Mark Gribble had hauled Exeter back from the brink of a non-event by putting on 32 in less than four overs to break the shackles tied on them by Sandford's bowlers, and in particular Richard Coupe (2-28), Stuart Priscott and Richard Foan.
But Zimbabwean Jordache Rawson had other ideas and bludgeoned Exeter back into the game with a quickfire 40 that came off 28 balls and included four sixes and two fours.
With Gribble keeping an end going for an eventual 41 not out, Exeter reached the 38th over needing 24 to win and Rawson in full cry.
The turning point was a sprawling catch at wide mid-off by Neil Davey that sent a disbelieving Rawson back to the pavilion.
Fourteen to win off the last over from Foan proved just too many for Exeter, who needed a boundary off the penultimate ball to stay in contention and only managed a single.
Baggs was fulsome in his praise for Bettis, but added that Exeter were in danger of snatching the game while Rawson was at the crease.
"Rawson and Mark Gribble batted well and had got the asking rate down to eight an over, which on a good deck like Braunton's with short boundaries at either end is very gettable," said Baggs.
"The game changed with that catch by Neil – one of the best I have ever seen – which stopped Exeter before it was too late.
"The way Rawson was going another over and we would have had it. That's how imporant the catch was.
"Our fielding and out cricket was superb – apart from when we dropped Del (Lammonby) which I thought was going to cost us – but Neil's catch was the icing on the cake.
Baggs didn't mention himself in the post-match summing up, but his own contribution with the bat shouldn't be underestimated.
Baggs (34) and Bettis put on 75 for Sandford's fifth wicket, which set them up nicely for a slog in the last five overs.
Trevor Anning belted 18 off 11 balls and the decision to send in straight hitter John Rhodes with an over to go paid off.
For Rhodes launched Mark Gribble for two sixs in the last over, hits that ultimately put the match beyond Exeter's reach.
Sandford 236-6 (N Bettis 89, R Baggs 34, R Foan 26; A Gribble 2-58, M Gribble 2-51), Exeter 231-7 (R Holman 34, G Lammonby 25, D Lammonby 40, J Rawson 40, M Gribble 41no; R Foan 3-51, R Coupe 2-28). Sandford bt Exeter by 5 runs.